Dwayne Meier
HVAC/R Apprenticeship class of '04
Chemeketa trains a lot of the people who keep Oregon running safely, like Dwayne, Project Coordinator for Salem Hospital's engineering department.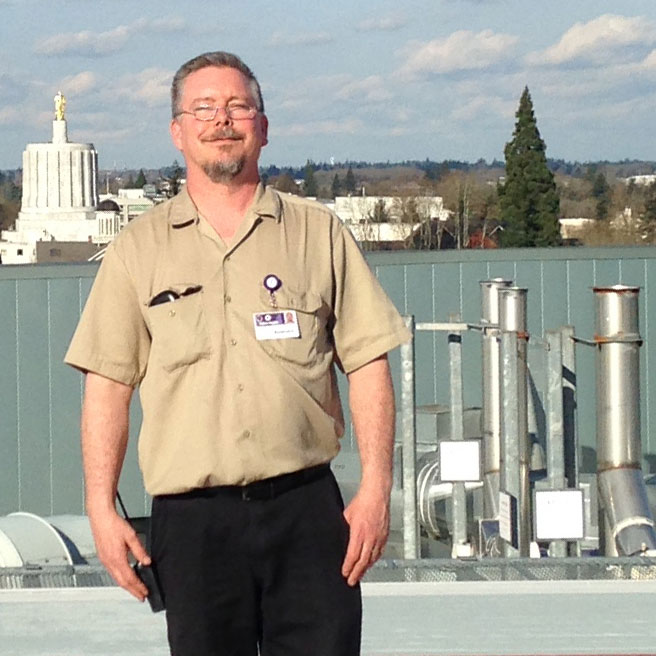 From nurses and hemodialysis techs to fire fighters and EMT, Chemeketa boasts a strong reputation for training local heroes.
But take a moment to think about all the behind-the-scene heroes who work without accolades to keep us alive and well. Like alumnus Dwayne Meier, Project Coordinator for Salem Hospital's engineering department, whose important work keeps the water clean, air purified and the lights and machines powered during our most vulnerable moments.
For Dwayne, education has always been a hands-on experience. That could be why the 2004 HVAC/R Apprenticeship graduate provides annual tours of the hospital's facilities to Chemeketa apprenticeship students.
"I met a lot of great people, students and instructors at Chemeketa and I wanted to give back," Dwayne explains. "The tour gives students a chance to see larger industry equipment in action and shows them the level of craftsmanship, installation and safety to strive for."
Dwayne's first enrolled at Chemeketa in 1992 after completing four years of service in the U.S. Navy. Here he took prerequisite courses before transferring to Linn-Benton to earn his Limited Maintenance Electrician (LME) license. Well into his career 24-year, Dwayne took the initiative to return to Chemeketa and continue his education.
"The decision was hard because I would be away from my family in the evenings," Dwayne recalls, "But when you're working with HVAC equipment ranging from one to 40 years old, you have to further your knowledge with additional hands-on training to keep up."
Dwayne credits his mother for his ambitions in lifelong learning. "My mom raised six boys by herself and made it a goal to get her master's degree," Dwayne says with pride, tears welling in his eyes. "She met her goal, and she's my biggest inspiration."
Back to 50th