College is All in the Family
Or the family is all in college
Three generations of Dallas' Aguinaga family are sharing an adventure in higher education.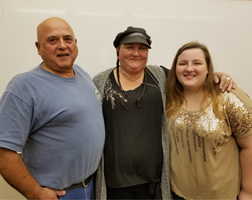 Grandfather Fred, his daughter Sherry and her daughter Amber are all enrolled at the Chemeketa Polk Center.
Amber, age 19, enjoys taking classes along with her family. "Both papa and mom inspire me," she said.
Fred says Amber helps him with technology, "She is the prettiest, sweetest and best granddaughter" which makes Amber beam.
None of the Aguinaga's had a straight or easy path to college. "I only made it to seventh grade," said Fred. "My parents felt learning a trade was more important." Fred started working at a dairy when he was 12 and never stopped working. He had a very successful and lucrative career in the lumber industry. In retirement he still wants to learn. "Friends ask me why I'm in school at 65 and I tell then 'Why not?" I want to get my GED because I'm tired of feeling dumb."
"Dad is always studying," said Sherry who works full-time and carries a full load at Chemeketa. Sherry stopped her college studies when Amber was little and has worked her way up at Goodwill to become a case manager in Long Term Services. She intends to complete her transfer degree at Chemeketa so she can get a Bachelor's degree.
Amber is in her second year of college and it's a wonder she got that far. She faced health challenges as a teenager. "I was in the hospital more than I was in high school," she said. Amber was determined to graduate on time so she loaded up her senior year by working on a farm in winter which earned her high school credits as well as online and summer classes. Amber made the Dean's list her first term at college. She is pursuing a nursing degree with an ultimate goal of becoming an oncologist as people close to her have suffered from cancer.
Cancer may have no idea what' in store for it with an Aguinaga on its case. "Hard work runs in our family," says Amber.
Back to Chemeketa Polk