Artists-in-residence featured in gallery through Dec. 10
Gretchen Schuette Art Gallery
DateThursday, November 16, 2017, 4:59
AuthorChemeketa Public Affairs
Chemeketa's most recent artists-in-residence will be featured in the Gretchen Schuette Art Gallery's latest show.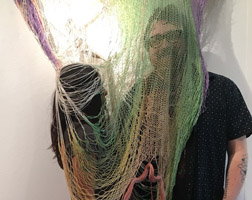 "Whatever Comes Up, I Will ______ It" features work Milla Oliveira and Johnny Beaver produced during their summer of residency.
The show runs from Nov. 8 to Dec. 10, with an artist's reception from 12:30 to 2:30 pm on Nov. 8.
Oliveira is a native of Brazil who has lived in Oregon for the past eight years and received her Bachelor of Fine Arts degree from Oregon State University. In her artist's statement, Oliveira said her paintings are a way to "record her own truth".
"My process embraces different kinds of thinking without hesitation," Oliverira wrote. "Intuition, reasoning, and following what the hands do are some of the ways in which I find both reassurance and conflict in making. I utilize color, texture, layering, rhythm, a sensitivity to time, waiting, and I allow gravity to exhibit its power."
Beaver also received a Bachelor of Fine Arts from Oregon State and is current a candidate for a Masters of Fine Arts from Portland State University. He said his work is an exploration of self-study.
"The act of creating offers a security I've never been able to resist," Beaver wrote. "Its simplest mechanics – action and outcome – carry with them a capacity for autonomy that directly confronts a chronic erosion of self-determination."
Gallery hours are available on the gallery's webpage.
All news