Chemeketa Polk Center
Further your education in Polk County at the Chemeketa Polk Center. For current events, check us out on Facebook.
Chemeketa Polk Center is Your Local College
The Chemeketa Polk Center offers a small supportive setting to further your education in Polk County. We provide the help right where you are for where you are going.
Transfer degree and lower division credit courses –
College preparation
Developmental education
GED preparation in English
Student services offered at Chemeketa Polk include –
Getting started workshops
New student advising workshops
Academic advising
Counseling services (Mondays)
Accessibility services (Fridays)
GED classes and testing
Proctored and placement testing services (Fridays)
Tutoring
Open computer lab time
Textbook pickup (when ordered from the Chemeketa Bookstore or Lending Library)
Student IDs (2nd and 3rd week of each term)
Free parking
Class Schedule

Spring term 2019 class mini-schedule for Chemeketa Polk Center is available at the Center.

Spring Term - April 1 to June 15: Polk Spring 2019 Schedule

Additional Class Locations

Along with our Holman Avenue location, Chemeketa Polk offers classes at these Polk County locations-

Central High School, 1530 Monmouth St., Independence
World Gym, 887 Main St., Dallas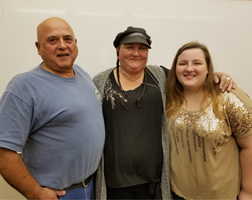 Or the family is all in college
Three generations of Dallas' Aguinaga family are sharing an adventure in higher education.