Chemeketa Awarded $149,973 National Endowment for the Humanities Grant
DateWednesday, December 16, 2020, 4:00
AuthorChemeketa Public Affairs
Chemeketa will use the grant to enhance public speaking education with diverse community speakers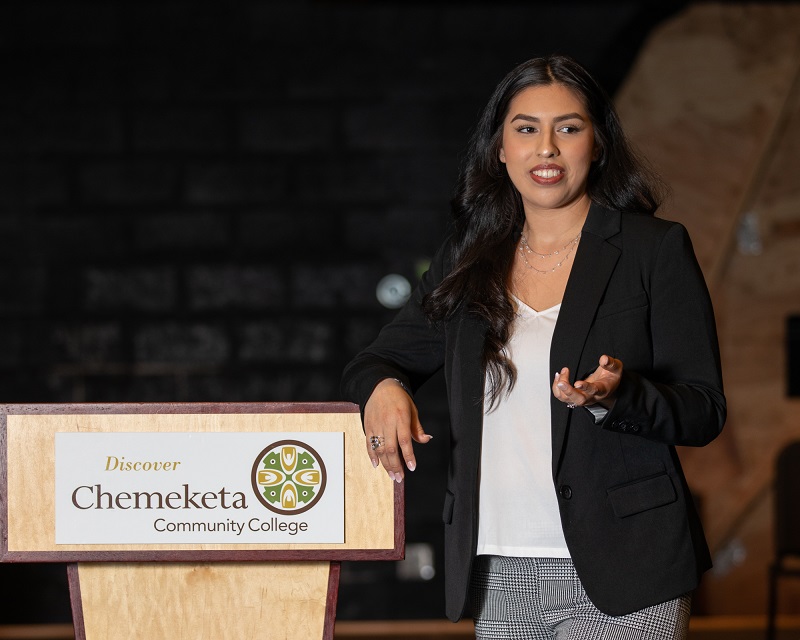 Chemeketa is one of 213 colleges to receive a prestigious National Endowment for the Humanities (NEH) Humanities Initiatives awards, and one of only a few community colleges funded. The project, led by Katie Dwyer and Keith Russell, is entitled Lifting Voices: Public Speaking as a Bridge to the Humanities. The funds will be used to develop a public speaking curriculum that is responsive in content, language and access to the diversity of the students at the college.
Public Speaking is required for most students' Associates and Transfer degrees, and is a venue to develop skills utilized in all college classrooms: critical inquiry, narrative, academic research, and the confidence to voice one's opinions and needs. Over the course of three years, seven guest speakers will speak at the college and conduct workshops with students.
Katie Dwyer, Communication faculty member and Project Co-Director explains, "This year we have seen so many examples of the power and importance of public speaking. The eloquence of community leaders at this summer's Black Lives Matter events and local high school students advocating for change further inspires my passion for public speaking as part of our civic life. By hearing the voices of our diverse community, we encourage our students to raise their voices and to see their diversity reflected in leaders incorporating public speaking skills into their work."
The speaker series, starting in Spring 2021, will be open to the public and celebrate Oregon's diverse history and culture. It will include local speakers including activists, scholars, and politicians voicing the perspectives of a Latinx farmworkers and advocates, a Native American educator, black community organizers, an Asian and Pacific Islander advocate for public health issues, and a Japanese-American scholar.
The project will develop a Spanish/English curriculum for the Public Speaking course so bilingual students can learn in two languages--a valuable skill for their professional careers. According to Keith Russell, Dean of Liberal Arts, "Many of our students go on to teach in schools with bilingual students, and honing public speaking skills in two languages better prepares them to be teachers and leaders."
The project will also serve students transitioning from general education development and English for Speakers of Other Languages by offering embedded academic language skill support in the COMM 111 Public Speaking course - helping these new college students raise their voices with clarity and confidence.
Jessica Howard, Chemeketa President says, "This project embodies our commitment to increase access, academic quality, and community collaboration toward the success of our students. We are very excited to partner with the community speakers to better serve the needs of all our students."
All news