Chemeketa Cellars boasts winning wines
DateThursday, January 24, 2019, 8:57
AuthorChemeketa Public Affairs
Wine Studies-produced wines awarded in San Francisco Chronicle's annual wine competition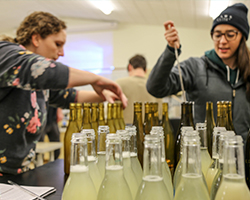 With more than 6,800 entries in the San Francisco Chronicle's Wine Competition, the nation's largest wine competition, Chemeketa's wines did well placing both gold and silver for entries.
Winning Wines
2009 Chemeketa Cellars Blanc de Noir – Gold
2017 Chemeketa Cellars Gamay Noir – Gold
2017 Chemeketa Cellars Pinot Blanc – Silver
2017 Chemeketa Cellars Pinot Gris – Silver
2014 Chemeketa Cellars Pinot Noir – Silver
The 2009 Blanc de Noir, 2017 Gamay Noir and 2014 Pinot Noir are currently available at the Chemeketa Cellars tasting room and the 2017 Pinot Blanc and Pinot Gris will be released in the spring. Tasting room hours are Wednesday 4-7 pm.
All news