Chemeketa Community College's Pre-Apprenticeship Program Continues to Grow
DateFriday, March 25, 2022, 4:22
AuthorChemeketa Public Affairs
Chemeketa's Pre-Apprenticeship program has received funding from the Higher Education Coordinating Commission Workforce Talent Development Board to aid in the growth of the project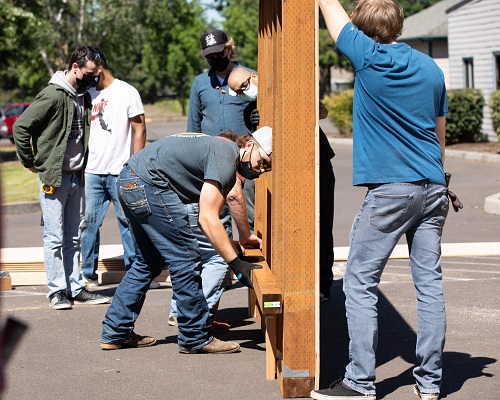 Chemeketa's Pre-Apprenticeship program will be funded through the Higher Education Coordinating Commission's Workforce Talent Development Board (HECC WTDB). This program was piloted last year. The Strategic Initiative Project will last 15 months and will fund a staff person to aid the scaling up of the project. The HECC WTDB grant award is $164,511.
Chemeketa will scale up the campus-based pre-apprenticeship program with a specific design to develop competitive registered apprenticeship applicants from traditionally underrepresented populations. The overall objective for this project is to increase the number of female, minority, low income, and rural registered apprentices in Area II apprenticeship programs, with a focus on the sponsor committees Mid-Valley Sheet Metal and Mid-Valley HVAC/R.
Pre-Apprenticeship is an opportunity for community members interested in working in construction or applying for Registered Apprenticeship Programs. Grant funds pay for tuition for APR 101, Trade Skills Fundamentals, which includes an introduction to hand and power tools, blueprint reading, and an introduction to the skilled trades. Participants receive OSHA 10 vouchers, anti-harassment training, and safety training. Pre-apprentices take one additional hands-on class, intern, or a career exploration course. This industry-recognized credential gives applicants additional benefits when they apply for a Registered Apprenticeship program. Upon completion, pre-apprentices are eligible for up to $650 for tools, safety clothing, boots, and gas cards through an Oregon Department of Transportation grant.
"Pre-Apprenticeship helps community members prepare to apply for registered apprenticeship programs and jobs in construction by providing industry-recognized practical, safety, and employability training," says Megan Cogswell, Director of Apprenticeship at Chemeketa Community College. "This grant allows participants to customize the program and links them with multiple opportunities to learn trade skills in a supportive environment."
The program, first approved by the Bureau of Labor and Industry Apprenticeship and Training Division in 2021, has been developed with significant industry feedback. For more information on the program, contact Megan Cogswell.
All news