Chemeketa's Unexpected Ally: Grass Carp
DateFriday, October 30, 2020, 10:58
Author
On the grounds of Chemeketa Brooks is a small, man-made pond that serves as a water reservoir for our Fire programs.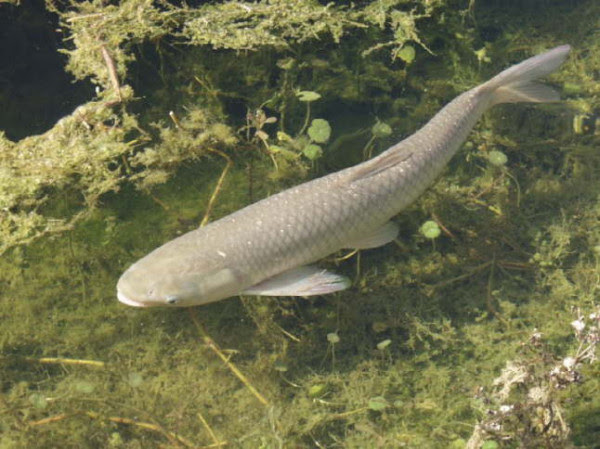 But each spring, the pond presents a problem. As the water warms up, it becomes heavily overgrown with vegetation and clogs the firefighting equipment.
The use of herbicides and poisons to eliminate vegetation goes against the College's commitment to being environmentally responsible. As all other solutions failed to be both effective and efficient, the College turned to an exotic fish for help.
Grass carp (Ctenopharyngodon idella), also known as White Amur, is a freshwater fish species native to Asia. They can grow to 50 inches in size (about 87 pounds), with a lifespan exceeding 20 years.
As far as diet, their first choice is always plants, which they consume whole, including hard stems and roots, but they can turn to insects, mollusks, and even small fish when vegetation is unavailable.
Because grass carp are not native to Oregon, the College needed to obtain a permit from the Oregon Department of Fish and Wildlife (OFW). The state of Oregon views grass carp as a dangerous, invasive species because they can cause dramatic changes in an aquatic ecosystem.
This was not a concern with the pond at Chemeketa Brooks though, as it's a small reservoir serving a single, utilitarian purpose.
The initial application for the grass carp permit was submitted to the OFW in September 2017. On Aug. 8, 2018, the permit arrived. It allowed the College to bring five grass carp to Oregon, all of which needed to be between 12 and 14 inches long, sterile, and implanted with microchips.
The fish arrived from a farm in Arkansas by FedEx's overnight service on Sept. 6, 2018. They were packed in bags containing water and oxygen and covered with ice. They were picked up at the Portland airport and released to the College.
The grass carp are now well into their second season at Chemeketa Brooks. They seem active, happy, and have more than doubled in size. The water looks free of submersed vegetation. In fact, the pond may be reaching a point when there won't be enough food for the fish. That, however, can be easily remedied, with so much mowing and pruning that always take place on campus.
The grass carp allowed the College to find a green solution that is free from toxic chemicals, involves no hard labor, makes firefighters happy, and is a pleasure to behold. With a minimum amount of maintenance, these fish can serve the College for years to come.
All news