Embrace the Future
Steve Brown describes our future
DateTuesday, April 17, 2018, 3:22
AuthorChemeketa Public Affairs
Brown identified four breakthrough technologies he projects will soon disrupt our economy and education.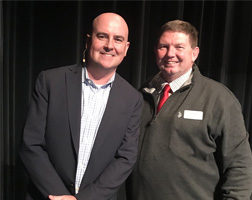 Robots are learning to do stuff for us, like –
Pick weeds out of a lettuce patch
Fill medical prescriptions
Flip burgers
Wait, you may ask, what happens to the people employed in those jobs? Exactly the point we need to address said Steve Brown when he spoke to an audience of over 400 packed into the Chemeketa auditorium on April 17.
Brown identified four breakthrough technologies he projects will soon disrupt our economy and education.
Artificial Intelligence
Machines are learning from the data they receive and they are making each other smarter. Technology is getting better at diagnosing problems like evaluating molecular structures and picking stocks.
Automation
Putting artificial intelligence in a machine creates a robot. Robots can now safely work alongside humans because they can sense their surroundings. For example autonomous transportation has huge implications for the auto and trucking industries.
Demand for autos could diminish significantly as ride sharing becomes the norm. Brown pointed out that the cars sitting idle in Chemeketa's parking lots all day could be deployed to provide rides to other customers while we work. Furthermore, transportation on surface streets could become so 2018 when private passenger drones lift us into the air and land us at our destination.
Block Chain
Think about how much of our business transactions are with strangers. How do we assure they are legit? We often use third-party verification. The U.S. Treasury affirms that the piece of paper with the number 20 is indeed valued at $20. The bank says we can afford that loan. The broker will buy our stock shares.
Block chain is a fancy database with powerful encryption that allows financial transactions between two parties without needing a third party. Hence, bitcoins are a token of value without needing to be a national currency.
Augmented Reality
Remember Pokémon Go? That sensation from a couple summers ago when people were walking in odd patterns while staring at their handheld devices? That's augmented reality, and it will be more than a game or a story on Snapchat and Instagram.
Augmented reality inserts digital information into the physical world, so that augmented reality will replace handheld devices as our information display. For example, have you noticed how many people learn from videos rather than instruction manuals? Augmented reality could do to videos what videos did to the printed word.
The Challenge for Education
Brown challenged his audience to raise awareness that the coming changes in technology will be swifter and more disruptive than anything we have experienced. We should be concerned that the transformation may eliminate jobs faster than new ones can be created. For example, one robot replaces four to five workers on average.
Brown thinks education should be re-imagined for the world that will be. He suggested we develop ways for education to be life-long, not limited to two to four year blocks of time. Educators should find ways to drive down the cost of acquiring a credential so that bite-sized chunks of relevant learning can be obtained quicker and more frequently.
Another safeguard against job loss is to master what robots can't do. "The more humanity we bring to our work, the better protected we are from automation," Brown claimed. He forecasted that these learning priorities will be valued in the future –
STEM
Creativity
Entrepreneurial skills
Love of learning
Critical thinking
Empathy
Communication
Finally, Brown advocated that education should incorporate the technologies we need to relate to the future, like networked relationships, virtual reality and the internet of things.
People leaving the event shared common sentiments that can be summarized as, "This is scary" and "This is exciting."
All news