"Invisible Light" in gallery Oct. 4 – Nov. 3
Gretchen Schuette Art Gallery
DateThursday, September 28, 2017, 4:05
AuthorChemeketa Public Affairs
A show in the Gretchen Schuette Art Gallery will let visitors see what they cannot see normally.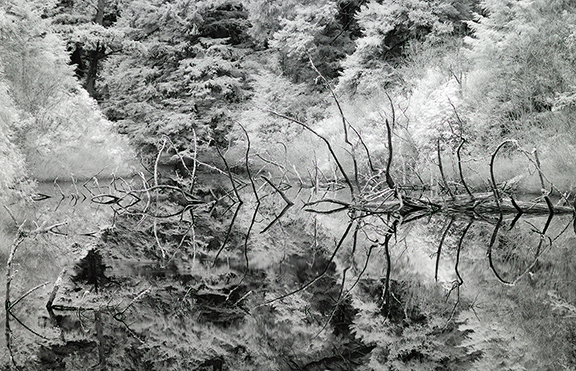 "Invisible Light" will feature infrared images taken by photographer Rich Bergeman.
The show will be featured in the gallery from Oct. 4 to Nov. 3. An artist's reception is scheduled for Oct. 4 from 12:30pm-2:30 pm with a talk by Bergeman at 1:30 pm.
Cameras with either special black and white film or digital cameras with converted sensors are capable of taking photographs at the infrared range, which are wavelengths longer than light waves visible to the human eye.
In his artist's statement, Bergeman said taking photography in infrared shows a world quite different than the one normally seen. Organic objects like plants reflect more infrared, making them appear bright in pictures while inorganic items like rock and water are darker.
"This can result in dramatic skies, deep black water surfaces and snowy-looking landscapes," Bergeman wrote.
Using black and white film for infrared photography builds on Bergeman's previous work in traditional black and white photography, he said, to take people viewing his work "into scenes with a surreal, dream-like, even ghostly
quality."
More information, including gallery hours, will be available on the gallery's webpage.
All news