Pharmacy Tech Program Now Accepting Students
DateWednesday, February 2, 2022, 3:37
AuthorChemeketa Public Affairs
Chemeketa's Pharmacy Technician program is accepting applications until March 21, 2022 for the spring term.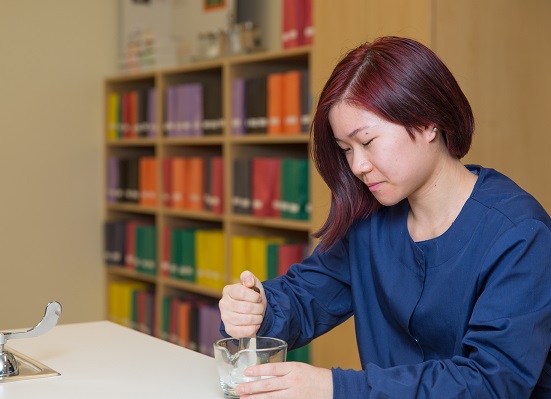 Chemeketa Community College's Pharmacy Technician program is accepting applications from now until March 21, 2022, for a spring term start. The program takes place on the Salem campus. Chemeketa offers a one-year Pharmacy Technician certificate and a two-year Associate of Applied Science degree in Pharmacy Management.
The Pharmacy Tech program prepares students for occupations in a wide variety of health service areas as well as preparing those currently working in the field to take the national board exams. At the certificate level, students learn to organize and maintain patient records and inventory control systems, accurately compound and prepare prescriptions under the direction of a licensed pharmacist, and use aseptic technology to prepare prescriptions in specialized pharmaceutical settings. At the degree level, students learn to provide leadership as a pharmacy manager, use accounting principles for inventory management and cost containment, and ensure regulatory compliance and patient safety within the pharmacy organization.
In Chemeketa's Pharmacy Technician program, experienced faculty will teach students how to assist pharmacists through a mix of classroom and lab work. Pharmacy technicians work in pharmacies of all sizes. They work directly under the supervision of licensed pharmacists. There is work in many different settings like retail pharmacies, clinic pharmacies, and hospital pharmacies.
"We want students to make a difference and earn a valuable position as a pharmacy technician," says Cheryl Buckholz, Pharmacy Program Chair at Chemeketa Community College. "Chemeketa's pharmacy technician program is the perfect fit for people interested in becoming part of the healthcare community. "
The program is the first program in Oregon that is accredited by the American Society of Health-System Pharmacists (ASHP). It is also a Pharmacy Technician Certification Board (PTCB) Recognized Education/Training Program. For more information, visit: go.chemeketa.edu/pharmacy
All news