President Huckestein to retire
DateWednesday, July 11, 2018, 3:23
AuthorChemeketa Public Affairs
Chemeketa Community College President Julie Huckestein has announced her retirement effective June 30, 2019.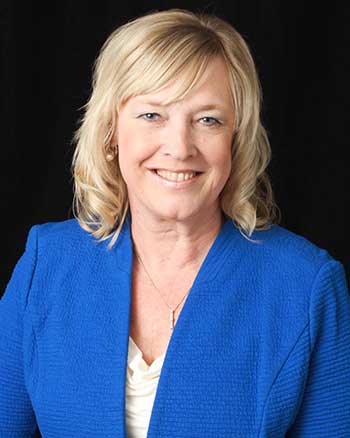 Huckestein has led the college since 2014.

"President Huckestein is a strong and collaborative leader who has benefited our students in countless ways," said Neva Hutchinson, chair of the Chemeketa Community College Board of Education. "Her focus on student success while maintaining solidrelationships with community leaders, K-12, college, and university partners is exceptional. We will miss her."

Huckestein has worked in community colleges for over 32 years, 18 of which were at Chemeketa. Under her leadership the Chemeketa Press textbook program was established saving students much needed money on books. Other notable accomplishments include the college being recognized as a Hispanic Serving Institution; establishing programs in bilingual education, music, robotics, anesthesiology technology, diesel technology; securing funding for a long planned Agriculture complex and construction of a new women's softball field.

"The last four years as President has been the most enriching and inspiring experience of my career. It has allowed me to interact with faculty, staff, students and community leaders and learn how our community college makes a difference to each individual we serve. I have seen first-hand how we work together to improve lives, improve livelihoods and give hope to those who may not have experienced it previously. We are a better community as a result of the work we have done together," said Huckestein.

Huckestein held the position of Vice President/Chief Financial Officer prior to her appointment as president in 2015. She is a proud community college graduate and earned an AS degree in Business Administration from Linn-Benton Community College, a BA degree in Management and Organizational Leadership from George Fox University and an MS degree in Education: Policy, Foundations and Administration from Portland State University. She is a native Oregonian and a first-generation college graduate. She is a former board member of the National American Association for Women in Community Colleges and has been active in the local and state organization for over 25 years. She is a member of the Marion County Reinvestment Council; Governor Brown's Mid-Valley Regional Solutions Advisory Committee; and a board member on the Marion-Polk Food Share. She serves as a Commissioner for the Northwest Commission on Colleges and Universities which oversees regional accreditation for 162 higher education institutions.

The Chemeketa Board of Education will be announcing the Presidential search process in the near future.
All news