Storm Athletic Complex opened
Soccer and Softball get home field advantage
DateThursday, September 20, 2018, 12:14
AuthorChemeketa Public Affairs
The new facilities give Storm soccer and softball teams fields of their own at Salem campus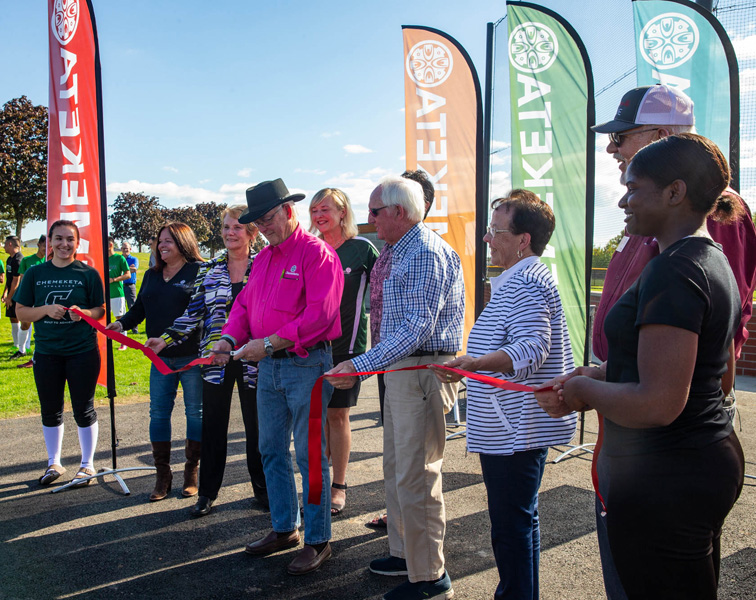 For Cassie Belmodis, it was the culmination of a dream that began in 1999.
That was the year when Chemeketa Community College began its softball program. At the time, the Board of Education promised to build the program a new field to play on. For 19 years, the team has either practiced in the Storm Center gymnasium or traveled to various softball fields throughout Salem to practice and play its games.
But on Sept. 19, Belmodis, the college's athletic director and a former Storm softball coach, addressed a crowd seating behind the backstop of Chemeketa's new softball field at the dedication of the new Storm Athletic Complex on the Salem Campus.
"Today is an amazing day, and I can't tell you how emotional I've been the last couple of days," Belmodis said. "This is a dream come true for many of us."
As Chemeketa Board of Education member Ed Dodson noted, the new facilities will give softball and the men's and women's soccer programs - who themselves have barnstormed for home games since that program's beginning in 2008 - something they have had - a place they can truly call their own.
"I'm pleased that we are leveling the field by giving you a home field advantage," Dodson said.
President Julie Huckestein also mentioned the true home field advantage.
"We hope these new fields will help our players...(softball) are the ones who have been waiting almost two decades for a field here," Huckestein said.
The new softball diamond and soccer pitch were constructed around the area previously occupied by the outdoor track.
To see when games will be played on the new fields this fall, check the 2018 Men's Soccer Schedule and 2018 Women's Soccer Schedule.
All news