Veterans Resource Center holds grand opening
Focusing on student veterans
DateWednesday, April 4, 2018, 4:31
Author
Expanded facilities to serve Chemeketa's student veteran population was celebrated with the grand opening of the new Veterans' Resource Center on April 2.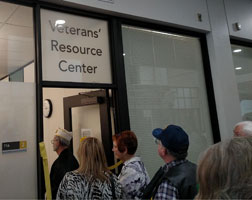 Jon Terrazas, the college's veterans services coordinator, told the crowd at the opening ceremony that the need to understand the culture of veterans will be served with the center.
"I'm humbled and in awe of the Chemeketa family to help put this resource center together," Terrazas said.
State Rep. Paul Evans (20th District), a veteran and Chemeketa communications instructor, noted that the lack of a major military installation in Oregon meant the state's veterans can be harder to locate, track and serve.
"Every veteran we don't engage is an opportunity lost," Evans said. "For vets coming back, a place like Chemeketa is a place they can be accepted."
Resource centers for veterans are critical to helping them succeed in civilian life, Evans added.
"In academic terms, it's a doorway to outreach, a doorway to connections," Evans said.
Reps. Rick Lewis from the 18th District and Mike Nearman from the 23rd District were also in attendance at the ceremony.
The center will focus on providing student veterans with information and opportunities, along with helping provide military culture knowledge to college staff in order to help them better serve student veterans.
Funding for the resource center came from grant funds provided from Oregon Senate Bill 143, which passed the Legislature in 2017. The bill provided a competitive grant process the state's public colleges and universities could apply to for receiving a portion of a $1 million pool of funding.
All news